Photo Slideshows
---
'Yours Hopefully' Poetry and Song Concert with Michael Rosen & Resound Acappella Choir - 7th March
This event on Wed 7th March was an uplifting concert of poems and songs about the 'Power of Words', including some new poems and vocal arrangements, especially commissioned by Historyworks for marking Holocaust Memorial Day 2018 on themes around kindness, migration, racism, refugees.
---
Michael Rosen's Workshop for Teaching Professionals - Wednesday 7th March
In this CPD workshop, author Michael Rosen & public historian Helen Weinstein, will introduce teachers to ways of supporting students to improve their reading and writing of both poetry and prose. Historyworks has made a huge number of free resources with Michael Rosen for Cambridgeshire schools, which we will showcase at the event. All participants will receive two signed books from Michael Rosen, the latter recently published, aimed at primary and early secondary school teachers. Teachers will be taken through Michael's guidance about how students can be encouraged to embrace reading and also improve the content of their writing by evaluating their narrative ingredients using his top tips. Helen Weinstein will showcase a variety of resources including history stories, walking trails, poetry and songs which have been devised by Michael Rosen and Historyworks, for teachers to use both inside and outside the classroom, to enhance learning across the curriculum. The main aim at the end of a long school day will be to inspire teachers, share practical tips and free resources, have fun with words in poetry and prose, and also eat chocolate cake together!
---
Creative Workshop with Michael Rosen at Milton Road Primary - 7th March
---
Cambridge's Holocaust Memorial Day Civic Ceremony
The HMD Civic Ceremony comprise songs, readings, poetry and drama, all inspired and interspersed by moving words from survivor testimonies and uplifting words from groups actively campaigning for equalities and supporting diversity today. Our speakers will include Jo Ingabire, whose incredible story takes us on a journey in Rwanda from hatred to reconciliation, where she preserves genocide memories through literature to build a positive future. Also, Peter Lantos, who survived the Nazi concentration camp at Bergen-Belsen to become a top UK medical researcher; in retirement recounting his childhood experiences in literary forms.
---
School Assemblies and Workshops with Michael Rosen for Cambridge Primary and Secondary Schools and Colleges
The Director of Historyworks, the public historian Helen Weinstein is introducing students and teachers to the history of the Holocaust, suitable for KS2, KS3, KS4, A' Level. Partnering with the renowned poet, Michael Rosen, and the Holocaust survivor, Eva Clarke, we are together leading workshops to encourage young people to understand the past and relate this to their present by listening and reflecting and using testimony from past genocides to write their own poems and narratives, songs and dramas.
---
Railway Singers Concert at Mill Road Winter Fair 2nd December
The concert was designed to be very participatory, with the words up on the big screens, so it was easy for the audience to add their voices too. We did NOT be parade afterwards to the corner of Cavendish Road because the new sculpture will now be unveiled in the Spring rather than on the day of the Winter Fair, so we will save this treat for 2018 to sing at the Romsey R!!
---
Michael Rosen's Creative Writing Workshop Organized by Historyworks
---
Active Abbey Adventures for Half Term Fun Day
On Tuesday 30th May HistoryWorks had a great afternoon of fun in the glorious sunshine alongside ChYpPS, Abbey People and other play partners, with a whole afternoon of "Active Abbey Adventures" including sports and making activities - kicking off with a free lunch and badge making from 12.30 to 1.30pm at Barnwell Baptist Church!
---
Active Abbey Adventures on Abbey Environment Day
---
Geocaching: Designing & Testing The Leaflets & Locations
---
Sing for Your School Celebration- 2nd March
The evening of 2nd March was a fantastic celebration of song and creativity, when the 8 finalists from local Cambridgeshire Schools came to perform at the Corn Exchange for the 'Sing for Your School Celebration' event. There was a real buzz in the air as the event started, with Mario Satchwell, Helen Weinstein and Tizzy Faller from Historyworks leading all the schools and the whole audience in a huge warm up session, to get their vocal chords ready for an evening of singing!
Michael Rosen expressed how amazed he was with the incredible talent the young people had in their song writing.
The audience also had the joy of hearing two of the other judges, Dan Wilde and Ilarna Nche, both singer songwriters, perform as part of the evening, with Dan singing his song Pieces and Ilarna singing her song Here's To The World alongside her sister Towalla.
All the performances were heartfelt and sung with real passion and enthusiasm, moving the audience and making parents, grandparents, siblings and teachers extremely proud of the young people on stage.
---
Sing For Your School: Rehearsals and Filming
---
Pumpkin Festival at Margaret Wright Community Orchard
Historyworks joined up with community organizations for the Pumpkin Festival on Wednesday 26th October at the Margaret Wright Community Orchard, off Whitehill Road. Abbey People hosted the event in partnership with ChYpPS, Historyworks and Cambridge Sustainable Food for a celebration of all things Autumnal.
The theme for Historyworks was 'Music and Modelling'. And as soon as we arrived at the Orchard, a hidden gem, with a magical 'secret garden' feeling, we were surrounded by children wanting to get busy with making.
Everyone had a fantastic time and a huge thanks due to Lorna and Keith and volunteers from the Margaret Wright Community Orchard. It was a really happy community event and fantastic to be outside together in the Autumn!
Here is our slideshow of photos from the event, but we don't have any of the singing because we were all performing with the children, so if any one in Abbey had some they can contribute, please email to us!

Created with flickr slideshow.
---
Cambridge Junction Stobbs Cup Challenge 2016 at CMT
---
Big Wednesday on Coldham's Common Junk Band and Drumming Workshops
---
Big Wednesday on Coldham's Common Kite and Model Making
---
Making Music and Marvelous Machines Junk Band Workshop
---
Making Music and Marvelous Machines Glider Making Workshop
---
Making Music and Marvelous Machines Wire Modeling Workshop
---
Making Music and Marvelous Machines Kite and Shaker Making Workshop
---
Creating My Cambridge Participants and Illustrations 2016

Created with flickr slideshow.
---
Photos of Historyworks Workshop led by Michael Rosen & Helen Weinstein
---
SInging History at Great St Mary's Activities
---
Singing History Concert 2016
---
Michael Rosen at Abbey Meadows School
---
Family Funday at Cambridge Museum of Technology
---
Twilight at the Museums 2016 CMT
---
Improv Workshop
---
Abbey Lantern Parade
---
Clicking to Connectivity Event 29th October
Here are some photos of the Clicking to Connectivity event on 29th October at Great St Mary's with instructions on how to search and download within the Historyworks filickr groups explained if you scroll below the photo slideshows on this page.
---
RAP workshops at Abbey Meadows with Inja
---
Singing History Concert performances for 'Creating My Cambridge'
Photos and short film of 'The Singing History' concert at West Road Concert Hall on 8th March 2015 which was the finale of the project organized by Historyworks for the pilot project for 'Creating My Cambridge' involving several community choirs and primary choirs, and performances from Year 5s with their pieces inspired by the Horrible Histories Songwriting workshops delivered by Dave Cohen, songwriter and Helen Weinstein, Historian alongside wider members of the Historyworks team and CaMEO teams including Mario Satchwell, Tizzy Faller, Joe Shaw, Henri Ward, Jon Calver:
---
Michael Rosen & the Listening Lions Project
Photos of Michael Rosen & the 'Listening Lions' project on Flickr with instructions on how to search and download within the Historyworks filickr groups explained if you scroll below the photo slideshows on this page.
---
Cambridge and participants 'Singing History' in the Cycle of Songs project
TO MARK THE TOUR DE FRANCE COMING TO CAMBRIDGE IN 2014
Photos of the Cycle of Songs project on Flickr
---
How to use Flickr
GUIDANCE ON HOW TO SEARCH FOR PICTURES IN FLICKR
As we have a lot of photos on the Flickr site we have tagged them so that you can easily find photos from different rehearsals, recordings, and public events.
The following steps will explain how to search for specific pictures within from the group.
Tags and Keywords
All of the photos have been tagged and titled with relevant descriptions to make finding certain photos easier. If you know you were at a certain rehearsal, recording, or event you can search for photos by venue name, location, date, or specific tag e.g Cambridge Junction, Romsey Mill, 13th June, etc
Instructions on how to search withing the Flickr group:
1. Type in a keyword or tag in the search bar, located in the upper right hand corner of the screen. As you type, a drop-down menu will appear. Once you have typed your keyword or tag click on the 'This group' option.
2. Once you have clicked on 'This group' it will take you to a second page where all the photos listed under that keyword can be viewed. From here you can click on an image to view it as a larger picture or scroll through and view all the images from that event.
GUIDANCE ON HOW TO DOWNLOAD PICTURES FROM FLICKR
We have made all our pictures available free to download and share, although if you publish them online or in print it would require a credit to Historyworks. Do feel free to share them with friends, family, and across social media. You can follow the directions below to download them.

1. If you click on the image you want to view it will open another page with a larger view of it. From this page you will see a small icon in the lower right hand corner (highlighted in a red box in the image below).
2. If you click on this icon it will bring up a menu offering different sizes. From this menu you can select the size of the image you want to download. Once you have selected the image size, click it and you will be able to download it to your hard-drive.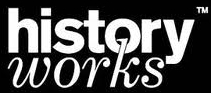 » Work with us